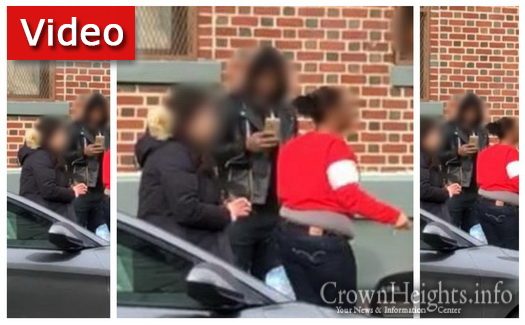 A parking dispute in Crown Heights escalated into a cellphone theft Sunday, and ended in an arrest made by the NYPD. The incident, which involved a Jewish woman, was caught on camera.
by crownheights.info
The baffling incident began as a Jewish woman was attempting to park her car in a rather tight spot in Crown Heights. In the process, as she attempted to squeeze her car in, she bumped the vehicle in front of her.
The owner of the vehicle came over, and following an animated discussion and threatening gestures, snatched the Jewish woman's phone.She then walked into her building while a bystander called the police and Crown Heights Shomrim.
The phone thief soon exited the building and was identified by Shomrim volunteers. The victim was able to make a positive identification of the phone snatcher, and although the phone was not recovered, she was taken into police custody.
Sunday afternoon a dispute involving a parking escalated to one person snatching the other persons phone and went into a nearby building. Thanks to great #Collaboration with our Vol & @NYPD71Pct the phone thief was arrested #ItsWhatWeDo #TeamWork pic.twitter.com/CWbRjCA4Pj

— CH Shomrim (@ShomrimCH) January 29, 2019