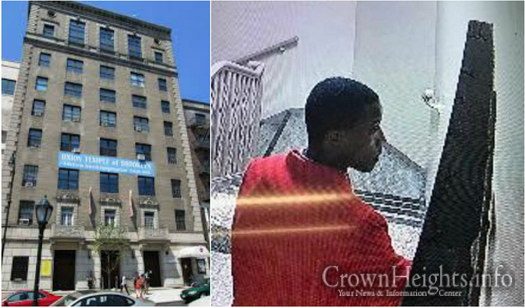 Arrest Made in Connection with Hate Graffiti in Reform Temple
An arrest was made in connection to hateful graffiti found drawn on the walls of a Reform Temple in Brooklyn. The person arrested was not a first time offender, and had other hate crimes in his past.
by crownheights.info
As previously published on crownheights.info, Thursday afternoon, members of a local reform temple were horrified to discover anti Semitic writing on several floors of The Union Temple of Brooklyn, located at 17 Eastern Parkway, just blocks from 770.
The messages, which included phrases such as "Die Jew Rats," and "Jews better be ready," were only some of the things written. Other phrases, which included some incredibly offensive language, were found as well.
The NYPD made an arrest on Friday night in connection to the incident. James Polite was arrested, and charged with scrawling the anti Semitic graffiti. Polite is also charged with a string of arson fires in Williamsburg, including one at a yeshiva and another at a Jewish banquet hall.
Polite has Jewish foster parents, and was an intern for former City Council Speaker Christine Quinn — for whom he worked on initiatives to combat hate crime.
"I know this young man, and along with many others in the New York City Council and social services agencies throughout the city, have done everything I could over the years to help him" as he cycled in and out of homelessness and the foster care and mental health systems, she said in a statement posted to Twitter. "I am simply and utterly devastated."
Authorities said Friday that Polite was sent to Woodhull Hospital for psychiatric observation.