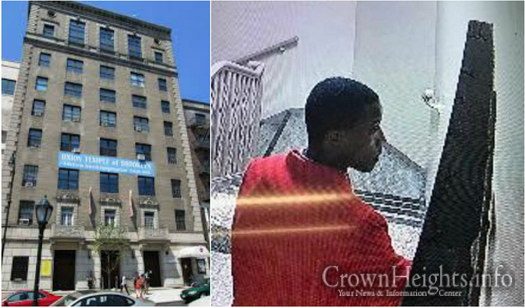 Just blocks for 770, a reform temple saw hate messages drawn inside its building. Phrases such as, "Die Jew Rats," and "Jews better be ready," marked the walls. This and other incidences appear to be part a spate of racial crime in the area.
by crownheights.info
Thursday afternoon, members of a local reform temple were horrified when they discovered anti Semitic writing on several floors of The Union Temple of Brooklyn, located at 17 Eastern Parkway, just blocks from 770.
The messages, which included phrases such as "Die Jew Rats," and "Jews better be ready," were only some of the things written. Other phrases, which included some incredibly offensive language, were found as well.
The finding of this graffiti caused the cancellation of a political event planned for Thursday night at the temple.
Gov. Andrew Cuomo said in a statement, "I am disgusted by the discovery of anti-Semitic graffiti at a house of worship in Brooklyn. At a time when the nation is still reeling from the attack at the Tree of Life synagogue in Pittsburgh, New Yorkers stand united with the Jewish community & against hate in all its forms."
On Friday afternoon, the NYPD released a surveillance camera image of the suspect. He is described as a black man, approximately 20 years old, 5'8″, 140 lbs., with black hair and last see wearing a red suit jacket.