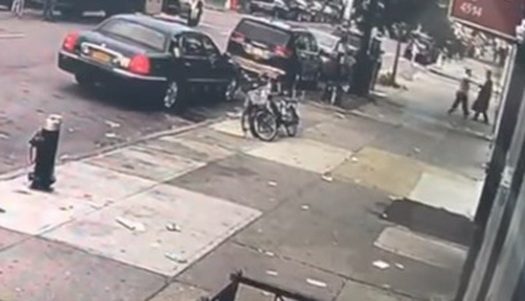 New Video has surfaced in regards to this Sundays beating of a 62 year old Chassidic man Lipa Schwartz in Boro Park. The video appears to show that the incident was not in fact a road rage incident as the DA claims.
by CrownHeights.info
As previously published on Crownheights.info, the Jewish man was walking to Shul on 13th Avenue near 46 Street, carrying his Tallis and Tefillin. Suddenly, a vehicle screeched to a halt, the driver, Farrukh Afzal, 37, got out, and ran towards the victim. He began punching him in his face and screaming at him. The man broke free and began running, but the suspect once again assaulted him in front of TD Bank.
The driver was arrested, and though originally charged with a hate crime, was ultimately changed to a road rage incident following the drivers claim of a previous incident.
The drivers lawyer stated that the victim had punched the vehicle's window as he was crossing the street and that Afzal feared for his life. These statements were stated by the DA as to why they did not pursue hate crime charges.
Yet video has surfaced of the vehicle being driven by Farrukh Afzal immediately prior to the attack. The video shows Farrukh driving at a high rate of speed for at least two blocks, appear to swerve in an attempt to hit someone in a crosswalk, before going through a red light and stopping to assault Schwartz.
Based on the new video, it appears that there was no interactions between Farrukh Afzal and Lipa Schwartz prior to the actual assault.
Family of Farrukh Afzal are quoted as having said that he has mental issues.