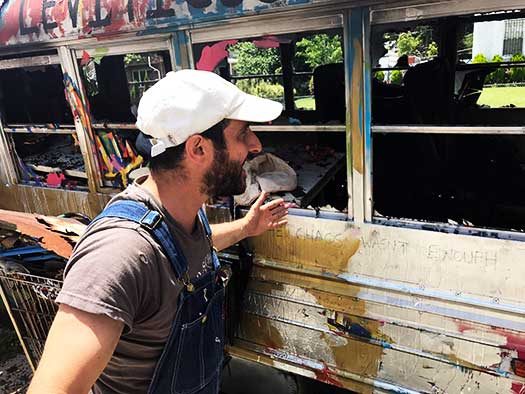 Police Investigate 'Art Bus' Fire as Arson, Hate Crime
A mini school bus, which has been converted into a rolling art project by a Jewish artist, was torched over the weekend and police are now investigating the incident as possibly being motivated by hate.
The bus, owned by Jewish artist Leviticus Schieber, converted the mini school bus into his rolling art studio as well as his main mode of transportation, and has been a common sight on the streets of Crown Heights.
That was until Sunday night.
Residents discovered the charred shell of the bus on Monday morning on Troy Avenue. While initially thinking it was an electrical fire, police have determined that the fire was intentionally set and suspect that it may have been motivated by hate.
The bus became well known after it was featured in a music video by Benny Friedman in a song titled "Ivri Anochi – I'm a Jew and I'm Proud."
"My first instinct was that it was targeted for some reason, maybe because it is a funny looking bus," said Schieber.
This is not the first time a vehicle has been set on fire in the vicinity. In April a school bus was set ablaze outside a public school on Maple Street just off Troy Avenue.  Later another truck was set on fire as well.