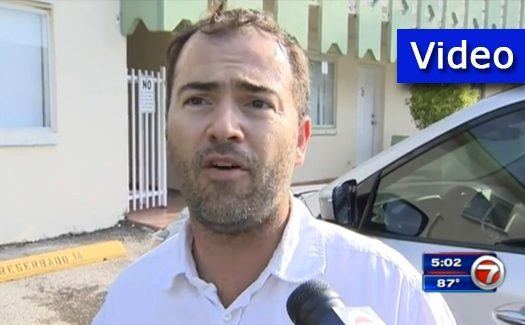 On Thursday night, an Orthodox-Jewish father of two was accosted by a pair of teens who robbed and brutally assaulted him outside his home in North Miami Beach, Florida.
from WSVN News:
More police officers are patrolling a North Miami Beach neighborhood, Friday night, after Rabbi George Tanev was left bloody and bruised from a robbery that took place during the overnight hours.
Tanev, the father of two children, said he had just finished up his night job as an Uber driver and, upon pulling up and exiting his car near his home on Northeast 170th Street, he was met by a pair of gun-toting teens.
"They come to me and said, 'Give us everything or we're gonna shoot you," he said. "And they pulled out big guns… Each one had one gun."
The victim said his assailants then pistol-whipped him. "They started hitting me on the head," Tanev said. "I told them, 'I have children and this is all my life. I can't surrender my car.'"
Tanev said the subjects then took off his cash, iPhone and even took his prayer books and other items needed for his rabbinical work.