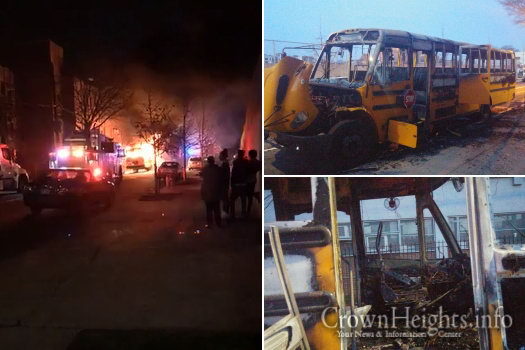 A yellow school bus was torched late Sunday night outside a public school in Crown Heights.
The bus, owned by New Dawn Transit, was parked outside the Middle School for the Arts on Maple Street and Albany Avenue when it was torched Sunday night.
One area resident streamed video of the blaze on Facebook live, showing the late model yellow school bus fully engulfed in flames.
Firefighters arrived within minutes and put out the fire, but not before the bus sustained significant damage.
Law enforcement sources said that the fire was set intentionally, and that fire marshals are taking the lead on the investigation.
Nearly a year ago, a similar incident occurred outside Beth Rivkah, a Jewish girls' school, where a school bus owned by a Jewish transit company was set ablaze by a group of pre-teens. Police succeeded in arresting all those involved, and they were initially charged with hate crimes, which were later dropped.