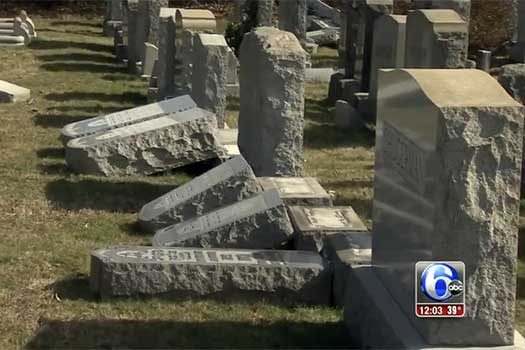 Just one week after news of a shocking vandalism of a Jewish cemetery in S. Louis surfaced, another such incident occurred and this time in a Philadelphia Jewish cemetery where dozens of headstones were knocked over.
Local ABC News affiliate WPVI reported that a North Jersey man discovered the shocking scene when he went to visit his fathers grave on Sunday morning. Aaron Mallin told WPVI "I'm hoping it was maybe just some drunk kids. But the fact that there's so many it leads one to think it could have been targeted."
The vandalism occurred in the Mt. Carmel Cemetery in the Wissinoming section of Philadelphia.
This incident follows another similar one which occurred in a S. Louis Jewish cemetery just one week ago. There too, hundreds of graves were desecrated. "It's hard to even express how terrible it was," said Anita Feigenbaum, executive director of the Chesed Shel Emeth cemetery after surveying the vandalism done to an older part of the cemetery, which dates to 1893, according to its website.
Vice president Mark Pence made an unannounced visit to the cemetery. Speaking on a loudspeaker he said "There is no place in America for hatred, prejudice, or acts of violence, or anti-Semitism. I must tell you that the people of Missouri are inspiring the nation by your love and care for this place and the Jewish community."
Mr. Pence then rolled up his sleeves and assisted in the cleanup effort alongside dozes of community members and other volunteers.