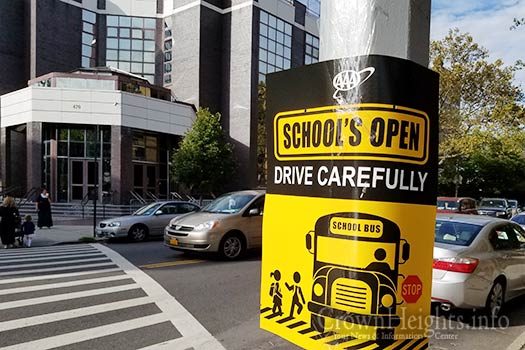 A security guard working in front of a Jewish girls' school in Crown Heights was menaced with a gun by a man in a vehicle as she was assisting with dismissal. The man shouted anti-Jewish remarks before driving away.
The incident occurred at around 4:00pm during dismissal time outside Beis Rivkah – the neighborhood's largest Jewish girls' school, located on the corner of Lefferts and Brooklyn Avenues.
The security guard, a non-Jewish man, was helping students safely cross the street when a man in a silver SUV pulled up next to her and pointed a handgun at her while shouting "why are you working for the Jews."
He then sped away.
Police and Shomrim were at the crime scene soon thereafter, and the incident was referred to detectives from the Hate Crimes Task Force, who are investigating the incident as a possible hate crime and are reviewing surveillance video from the scene.
After being notified about the incident, school administrator Rabbi Benjy Stock immediately arrived at the scene and assisted police with reviewing surveillance video. "You see the car [in the video] and I am confident the police will vigorously investigate this incident in light of its severity," he said, adding that police informed him they will be adding additional presence at the school.
This article has been updated to reflect the correct gender of the security guard