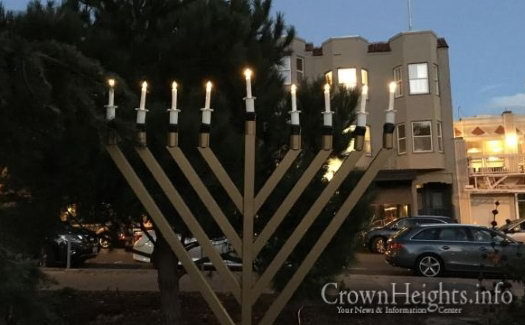 6-foot tall, 150 lb. menorah stolen from Washington Square in San Francisco's North Beach.
A 6-foot tall menorah was stolen from Washington Square Park in San Francisco over the weekend. It was last seen on Friday, December 23, by Rabbi Peretz Mochkin of the North Beach Chabad.
from The SF News:
The menorah was installed in Washington Square in North Beach on December 12 and weighs in at about 150 pounds. Its disappearance was discovered by members of the North Beach Chabad prior to the first candle lighting for Hannukkah on Sunday, December 25. Canyon-News spoke to Miryum Mochkin, co-director of the North Beach Chabad and wife to the Chabad's Rabbi Peretz Mochkin. "It was devastating. It was really devastating," she stated.
According Mochkin, the North Beach Chabad was in the midst of their Festival of Light activities including indoor crafts, treats, and children's activities being held a block away from Washington Square park at the Naivasha Studio and Gallery located between Union and Grant when members noticed the menorah was missing before its lighting scheduled at 4:00 p.m.
The North Beach Chabad filed a police report on Monday, December 26 and are awaiting any surveillance footage from the neighboring businesses and shops that may have evidence leading to potential suspects involved. At this time no arrests have been made.