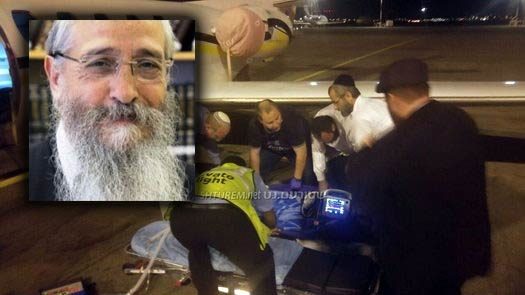 Four suspects have been arrested in connection with the brutal beating and robbery of Rabbi Mendel Deutsch, police in Zhitomir, Ukraine say that the four – two men and two women – were arrested and charged in connection with the brutal incident which occurred two weeks ago.
The incident occurred some two weeks ago near a train station in the Ukrainian city of Zhithomir. The group attacked the 63-year-old rabbi and beat him mercilessly, then took a large amount of cash along with his cellphone and left him for dead.
Hours later he was discovered and emergency services were called and he was rushed to a local hospital where he was being treated in the intensive care unit for major head trauma.
The Chabad Shliach in the city, Rabbi Shlomo Wilhelm, was called to the hospital and when he recognized the victim he immediately notified the family and helped arrange the best possible care.
He was later transported to Israel by Air Ambulance and is currently hospitalized in the Shiba – Tel Hashomer hospital and is still listed in critical but stable condition.
According to local police three of the suspects reportedly live in the Carpathian Mountains region while the fourth lives in the city of Vinnitsa, Ukraine. The two men that were arrested are 40 and 21-years old and the two women are 16 and 13-years-old. They now face eight to fifteen years in prison if convicted.
The public is asked to continue saying tehillim for the complete and speedy recovery of Menachem Mendel ben Miriam.