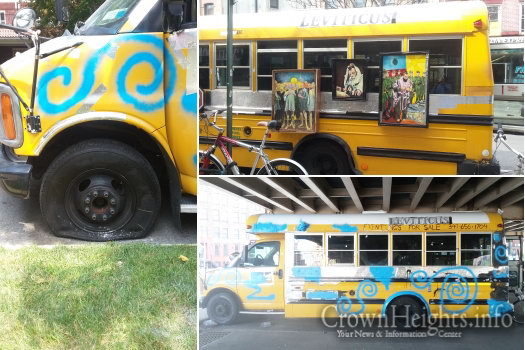 Art Bus's Tires Slashed
A whimsically painted converted school bus used by Crown Heights-based Leviticus Studios to peddle their artwork around town was vandalized last night, when someone slashed the vehicle's tires with a knife.
The incident occurred sometime last night while the bus was parked on the corner of Kingston Ave. and President Street in the heart of Crown Heights.
"I use this bus as a studio for my portrait painting business.  It seems as though it was a targeted attack on something that appears to be different because no other vehicle on the block was vandalized.  The bus is painted whimsically to spread happiness and to add a little abstraction to reality. It's unfortunate that some might see it as threatening," said Lev, founder of Leviticus Studios, in a conversation with CrownHeights.info.
A police report of the incident was filed with the NYPD.