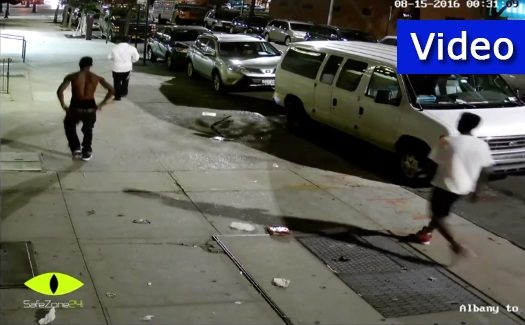 The frightening moment a Yeshiva student was robbed at knifepoint by two perpetrators on Albany Ave. and Eastern Parkway in Crown Heights Sunday night was vividly caught on surveillance video, which was obtained by CrownHeights.info.
In the video, two African-American males can be seen passing the student on Albany Ave., and then turning around and following him up the street towards Eastern Parkway.
One of the men pulls out a knife and runs towards the victim, who flees towards the busy street. The perpetrator then drops the knife, giving the victim the opportunity to flee. (Our initial report that it was the perpetrators who fled was inaccurate).
The victim then called Shomrim, who assisted him in filing a police report at the 71st Precinct. It was there that they learned that this criminal duo robbed two more victims in the vicinity, as can be read here.