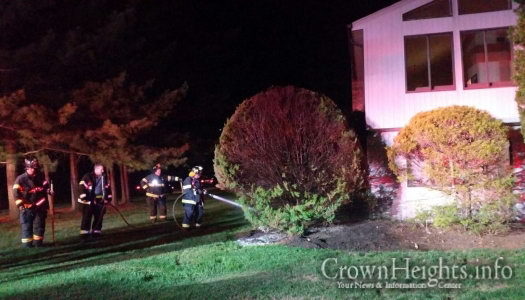 From Hamodia:
Two explosive devices went off within seconds of each other outside the homes of two Chabad rabbis in Rockland County Tuesday night, and the chairman of the county's legislature is blaming a "climate of hate" fostered by the county executive.
The first incident occurred at about 10:15 p.m. at the home of Rabbi Simcha Morganstern, an associate rabbi at the Chabad of Rockland in New City. There were about 15 adults and children gathered for a birthday farbrengen when an incendiary device exploded under the gas tank of a car parked outside.
Rabbi Avremel Kotlarsky, who heads the Chabad center, told Hamodia that they were just about to daven Maariv when the explosion was heard. A few seconds later, a similar attack took place a block away at his own home.
"I got a phone call from my house, 'do you know what's happening here? A tree is on fire,'" Rabbi Kotlarsky said. "My 16-year-old daughter had been looking out the window when she saw three or four teenagers running. She saw one of them throw something."
A bush near the house had been set ablaze.
The New City Fire Department responded and put out the fires. Clarkstown's police department is investigating.
"It's obviously premeditated," said Rabbi Kotlarsky, who founded the Chabad center 33 years ago. "It was not just one rabbi, it was two. It was clear that we were targeted."
Click here to continue reading at Hamodia.