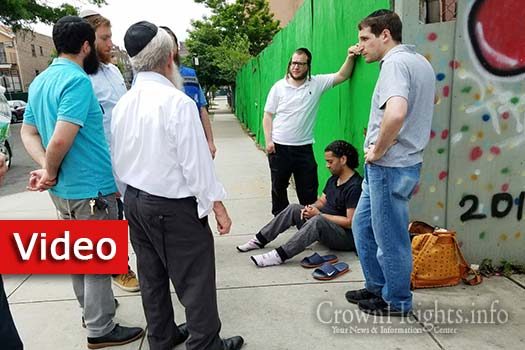 A scuffle broke out in front of The Marketplace, a Crown Heights supermarket, after a man shoplifted a block of butter and was confronted by the store's management.
The incident occurred at around 2:00pm today, Monday, May 30.
The suspect, a Hispanic male believed to be a patient at one of the mental health facilities in the neighborhood recently created by the city, stole a block of butter valued at around $4 from The Marketplace, located on the corner of Kingston and East New York Avenues.
The man was confronted by the store's manager and an employee, and a scuffle ensued, which was captured on video (see below).
Shomrim were called to the scene, and the volunteers successfully deescalated the situation, calmed the suspect and persuaded him to cease resisting until police arrived and arrested him for petite larceny.