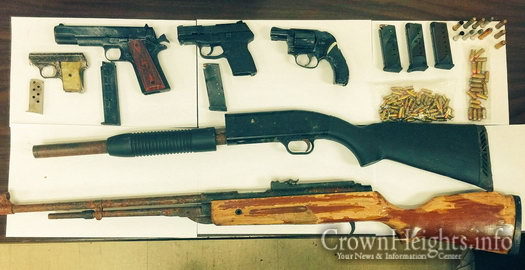 Police confiscated a cache of weapons from a Crown Heights apartment Thursday, including six firearms and over 100 rounds of ammunition.
From DNAinfo by Ben Fractenberg:
Officers first responded to a 911 report of shots fired at St. Marks and New York avenues on Wednesday at about 4 p.m. Investigators were then able to trace the weapons back to 769 St. Marks Ave. where they arrested five men.
The NYPD obtained a search warrant on Thursday for the apartment and found two loaded 9mm handguns, a defaced .38-caliber Smith & Wesson handgun, a loaded .22-caliber Unceta-Astra handgun, rifle and shotgun.
Investigators also recovered 114 rounds of ammunition and two spent rounds.