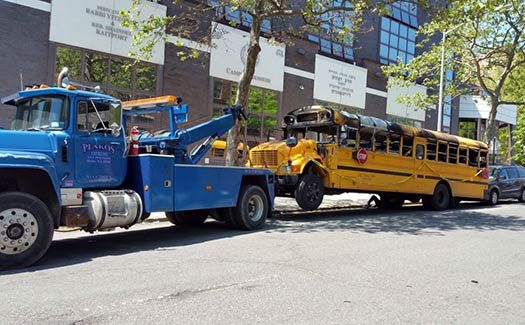 Three Additional Juveniles, a 12-year old and two 14-year-old's, were arrested Thursday evening in connection with the arson burning of a Jewish owned school bus in Crown Heights.
by JPUpdates
The Youths are a 12-year-old and two 14-year-old males, all juveniles have been charged with Arson as a Hate Crime and Criminal Mischief as a Hate Crime. there arrests came after police arrested Thursday morning a second 11-year-old-old boy and he cooperated with detectives leading to the arrest of the three others, a NYPD official told JP.
At a unrelated press conference Thursday afternoon in NYPD headquarters NYPD chief of detectives Robert Boyce reiterated that this incident was clearly a hate crime.
"We spoke with the Brooklyn DA. We were both in agreement this was basically motivated because it was a local religious school that was targeted" Boyce said. the bus was parked in front of a religious school which everyone sees is Jewish as well, Boyce explained. so right now we are looking at it as a hate crime Boyce told JP.
Investigators are still looking for one additional suspect police said.
Investigators are still probing if this suspects are connected to throwing bricks on another Jewish school bus three days before the fire law enforcement sources said, we don't see anything that relates to those two. There was a broken mirror on another bus nearby. it is unknown if that has anything to do with this bus fire. but again, its targeting school buses. Different school, but nonetheless, very similar in other aspects, Boyce said.
The first 11-year-old suspect was arrested Sunday night after an 11-year-old Shiena Gansburg handed over a description of the boys she saw setting the bus on fire to Shomrim, acting on this description police were able to arrest Calvin Payne, but he wasn't helpful to the detectives, Thursday morning crime stoppers got a tip identifying the second 11-year-old boy, after being in custody for hours with his parents he gave up the other boys, the group all know each other they are all friends, a NYPD official said.