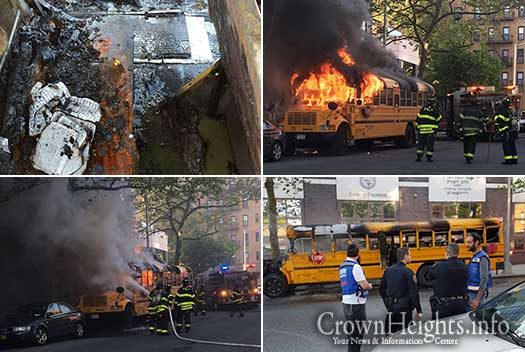 School Bus Set Ablaze in a Suspected Arson
A school bus was set ablaze Sunday evening in what witnesses say was deliberately set by a group of children.
The incident occurred near Beis Rivkah on Brooklyn Avenue between Lefferts and East New York Avenues at around 5:45pm. A witness observed a group of 4 or 5 young black children around 10 to 14 years old on board a parked bus.
Suddenly smoke was seen coming from the bus and the group fled and quickly the bus was engulfed in flames.
Shomrim received a call alerting them to the fire and the fleeing suspects, volunteers who responded within moments were able to locate them and keep an eye until police arrived. When confronted they immediately denied being involved in the fire. A witness initially identified them, but later said she was not sure.
Police took down their information and are reviewing surveillance footage from the nearby school.
Firefighters quickly arrived on scene and doused the blaze, though not before it causing significant damage.
The bus is operated by BSD Trans Corp, a local Jewish owned bus company.