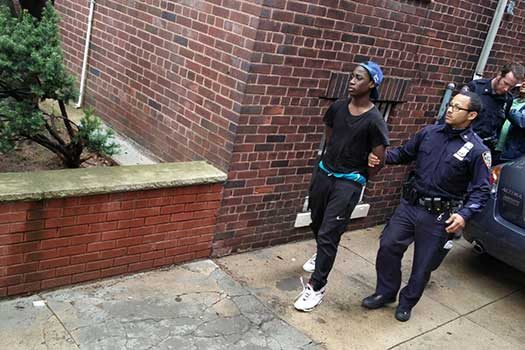 A group of teenagers was acting rowdy and throwing rocks at people on Eastern Parkway. One of the teens was confronted by a Jewish man, who restrained him after he punched him in the face.
The incident occurred at around 3:15pm on Eastern Parkway near Brooklyn Avenue, where a group of approximately four teenagers was behaving rowdily and throwing rocks and sticks at passersby and cars.
When a Jewish man confronted the group they all fled and he gave chase, cornering one in a driveway between two houses. "Don't move" he told the teen, who responded by punching the man in the face. The victim restrained the teen until police arrived, and he was taken into custody.
At the precinct he was charged with assault in the third degree as a possible hate crime. Police sources said that the suspected assailant is a 13-year-old black teenager who attends school in one of the local public schools.
"Officers from the 71st and 77th Precincts will be visiting the 'Albany Alternative School' to talk with faculty and students in the coming week," a police source said.