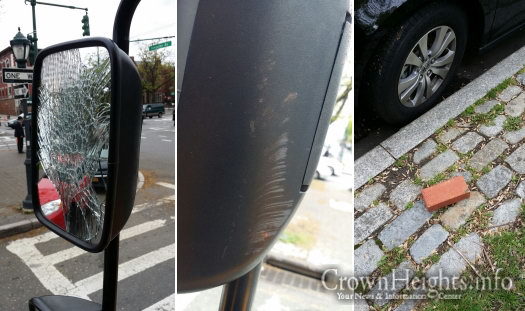 A brick, aimed at the head of a Jewish bus driver, thankfully missed its mark and instead struck the mirror and body of the bus, causing significant damage. The young teenagers who threw the brick fled into an adjacent subway station and onto the train tracks.
The incident occurred on Eastern Parkway in the service road between Albany and Kingston Avenues at around 2:30pm today, Thursday.
The driver, operating a bus for one of the neighborhood's Jewish schools, observed a group of around eight young black teenage boys and girls acting mischievously, when suddenly one of them threw a brick at him.
Thankfully, the brick missed the driver's window, and instead struck the mirror and the side of the bus, causing significant damage to both.
"Thank G-d [the brick] just missed me. My window was open and it hit just a few inches from my head," the driver told CrownHeights.info.
The bus driver called Shomrim, and a bystander informed the police officers at the Command Post on the corner of Eastern Parkway and Kingston.
Together, Shomrim volunteers and police officers went into the Kingston Ave. subway station to and spotted the perpetrators waiting on the platform. Seeing that the police were coming, the teenagers jumped onto the subway tracks and ran through the tunnel towards Utica Ave.
A Shomrim volunteer rushed to the Utica Ave. station to try and intercept the fleeing suspects, but he was unable to locate them in the crowd.
The victim filed a police report at the 71st Precinct.
There were no students on the bus at the time of the incident, and thankfully there were no reported bodily injuries.