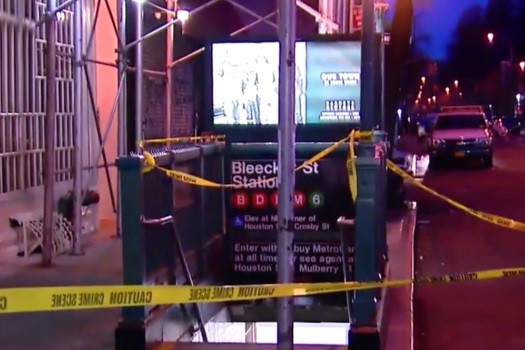 An Orthodox-Jewish man was slashed on a Manhattan subway platform in a possibly random attack early this morning.
From VIN News by Sandy Eller:
A Chasidic man visiting from Israel is in Bellevue today after being slashed repeatedly on a Greenwich Village subway platform during the early morning hours.
Police said that the man, who is believed to be between 50 and 60 years old and was dressed in traditional Chasidic attire, was at the Bleeker Street-Broadway Lafayette subway station when he was approached by an unidentified man at approximately 3:30 AM.
The attacker took money from the victim and slashed him on the left side of his neck, his face and his hands.  The victim managed to make his way out of the subway station and onto the street where a pair of good samaritans flagged down a police car to assist the bleeding man.
The victim, who does not speak English, was transported to Bellevue Hospital in stable condition. Police said that they believe the man is Yiddish speaking and are in the process of locating an interpreter.
Detectives from the 9th Precinct followed a bloody trail from the street to the north end of the southbound platform of the number 6 train.  Police recovered what is described as a bloody knife handle at the scene.  The suspect is being described as an adult black male with dreadlocks, dressed in a brown jacket.
Eyewitnesses are currently being interviewed by police who are investigating the incident to determine if it will be treated as a hate crime.  Trains on the 6 line bypassed the Bleeker Street station this morning as police continued their investigation.