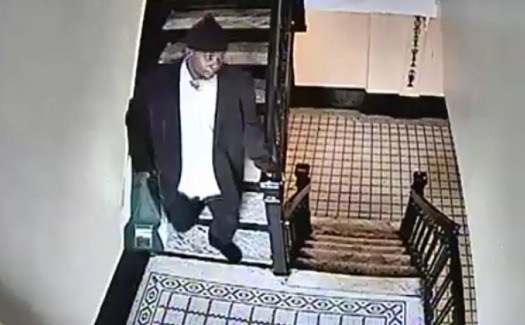 Image of the suspect from the building's surveillance camera.
Police are looking for a man who attempted to shoot a woman in a Crown Heights apartment building while she was holding her 7-year-old son. Thankfully, the gun jammed, and the intended victims were able to escape into an apartment.
From The Patch:
The 30-year-old woman and her child were visiting a relative on Saturday afternoon in a building located near the intersection of Bedford Avenue and Union Street.
The suspect had gained access to the building before their arrival, and approached the woman and child in a stairwell, police said. He then attempted to shoot the woman, but his gun jammed, giving the victims time to escape into the relative's apartment.
The man then shot several bullets into the closed door before fleeing, according to police.
Police describe the suspect as approximately 35 to 40 years old and standing between 6-foot and 6-foot-2.
Anyone with information in regards to this incident is asked to call the NYPD's Crime Stoppers hotline at (800) 577-TIPS.