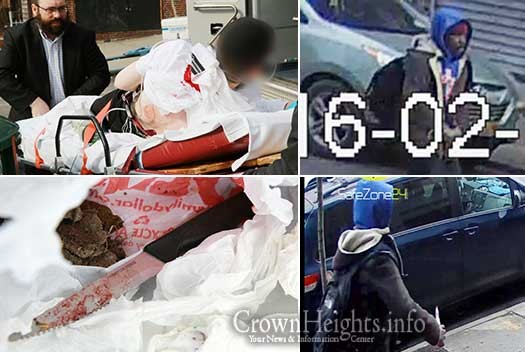 Blood-Covered Knife Found; Stabbing a Possible Hate Crime
A knife covered in dried blood was located Thursday morning and turned over to the police by Shomrim. The six-inch serrated blade is believed to be the one used in the unprovoked attack on a Crown Heights Jewish man Wednesday afternoon. Police are investigating it as a possible hate crime.
A 25-year-old Lubavitcher man was stabbed Wednesday afternoon on Empire Boulevard in a sudden and unprovoked attack. The suspect, a Black man believed to be in his 20s or 30s and wearing a black jacket and blue hooded sweatshirt, was captured on surveillance video fleeing the scene with the bloody knife in his hand.
After being stabbed, the victim ran towards Kingston Avenue and called for help.
Inside a checks cashing store, Hatzalah medical personal, Shomrim and police rushed to his aid and began a fervent search for the attacker.
The victim was rushed to Kings County Hospital with what police said was a collapsed lung.
"He was dressed in Hasidic garb. Right now we're looking at it as a possible hate crime because he's dressed in that fashion," said NYPD Chief of Detectives Robert Boyce.
On Thursday morning, the day after the attack, Shomrim received a call from a neighborhood resident saying that he found a bloody knife near Albany and Lefferts Avenues, which he believes may have been used in the attack.
Shomrim rushed to retrieve the knife and turn it over to authorities.
The knife, a six-inch-long serrated blade with a black handle, appears to be a common kitchen knife and closely resembles the knife which the suspect is seen holding in surveillance video as he is fleeing from the scene of the crime.
Sources told CrownHeights.info that the victim is currently recuperating in Kings County Hospital. Immediately following the attack he underwent a successful procedure on his lung and he is in a lot of pain, but is in good spirits. "His condition is listed as 'day-to-day' and there is no definitive time for when he will be released," the source said.
Fleeing with knife in hand:
Seen fleeing after turning the corner: