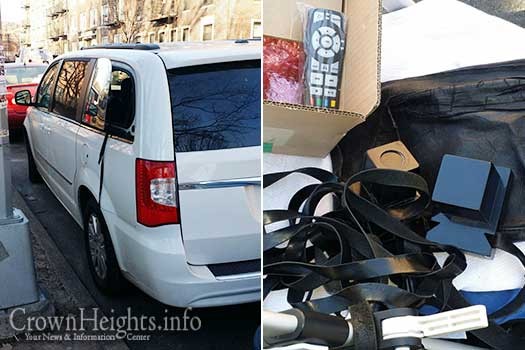 A rash of minivan break-ins has been plaguing an area in Crown Heights over the past couple of weeks.
Shomrim volunteers told CrownHeights.info that over the past two weeks, about a dozen minivans have been broken into in the vicinity of Crown Street between Albany and Utica Aves.
One such incident occurred last night on Crown Street between Albany and Troy. The thieves broke into a Jewish-owned minivan by prying open the 'vent windows' located on both sides of the vehicle in the rear.
The thieves stole the minivan's built-in DVD players, and opened up a Tefilin bag left in the vehicle. Luckily, they determined that the contents of the bag would be of no value to them, and left the Tefilin behind.
The break-ins usually occur to vehicles parked in shady and dark areas; the thieves always break in on the side of the vehicle facing the sidewalk.
A Shomrim coordinator recommended that vehicle owners not leave anything of value in vehicles parked on the street – especially Tefilin, and it is advisable not to leave behind anything at all that is visible from the street.