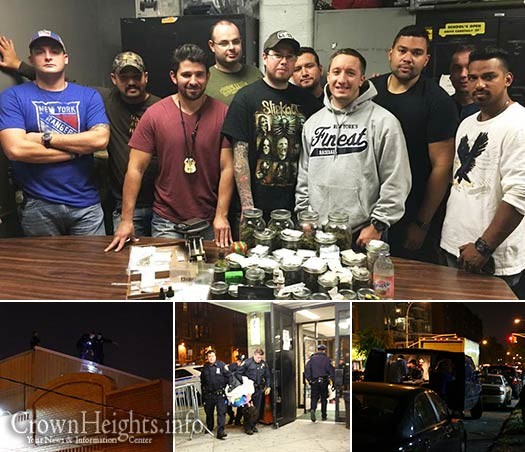 'Crack House' Raid Yields Large Cache of Drugs
Neighbors are reportedly breathing a sigh of relief following a major drug bust on Lefferts Avenue last night. Police discovered a very large cache of drugs along with identity-theft devices inside a home that neighbors have been complaining about for months.
Police sources tell CrownHeights.info that after a lengthy investigation by the 71st Precinct's Intelligence Unit, they obtained a search warrant for 704 Lefferts Avenue and executed a raid late Thursday evening.
The target of the investigation was 29-year-old Aaron Akaberi, who was previously arrested in connection with a discovery of guns and drugs in the basement of Aliyah as well as car crash which also yielded "a duffle bag full of drugs."
When police raided the house, Akaberi fled out the rear and managed to hide for nearly an hour until he was spotted on the roof of the Bnos Menachem Girls' School on East New York Avenue, just around the corner.
A helicopter was called in to assist officers from the Strategic Response Group and Emergency Service Unit, who combed over rooftops of a number of nearby buildings. Police sources said that Akaberi used ladders to climb between buildings in an attempt to hide out before he was apprehended.
Among the drugs found in the house were cocaine, crystal meth, alprazolam (Xanax) and marijuana, along with scales and drug paraphernalia. Police also found a credit card skimming device often used by identity thieves.
Akaberi was charged with 11 felonies, two of which are class A felonies which carry a up to a life sentence, and 6 misdemeanor charges – all of which range from burglary to criminal possession and distribution of narcotics.
Five other people, 3 men and 2 women, were arrested, and all face a variation of similar charges.