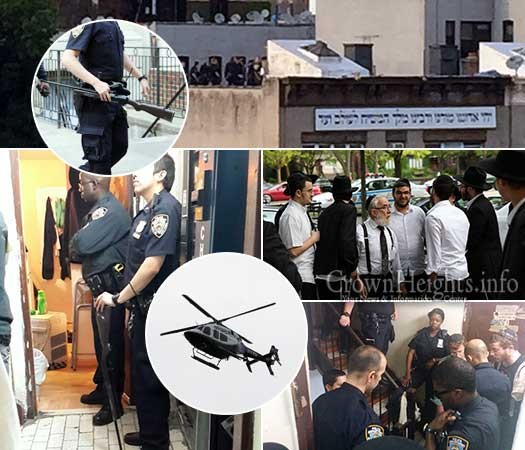 A 911 call regarding gunshots on Sterling Place led officers guided by an NYPD helicopter into the Kvutzeh dormitory on Eastern Parkway where a number of weapons were confiscated from dorm resident.
The incident began in the vicinity of Sterling Place where police received a call about gun shots, officers from the 77th precinct quickly began searching the area and enlisting the assistance of an NYPD aviation unit.
Officers in the helicopter spotted a man enter a building on Sterling Place with what appeared to be a rifle and then lost sight of the man. In continued searches they spotted a group of people on another roof that also appeared to be in possession of a rifle and hand gun.
Unsure of the exact address officers flooded the area and entered three buildings, 749, 755 and 763 Eastern Parkway and began searching for the guns spotted by the aviation unit.
Eventually they located the guns in the dorm room of 749 Eastern Parkway in possession of a Bochur who supposedly is a student in Kvutseh. The officers confiscated two bb guns, one rifle and one pistol and issued the Bochur a criminal summons.
A dorm resident who spoke with CrownHeights.info said that the room police found the guns in, room 201, belongs to a group of Mishechistim and that many different Bochurim sleep there on different nights.
In response to an inquiry form CrownHeights.info a police source explained that air or bb guns are not illegal, but only when they have an orange tip indicating that they are not firearms. Without it officers can confiscate the guns and issue criminal summonses for carrying an imitation firearm.
Photos by Benjamin Lifshitz