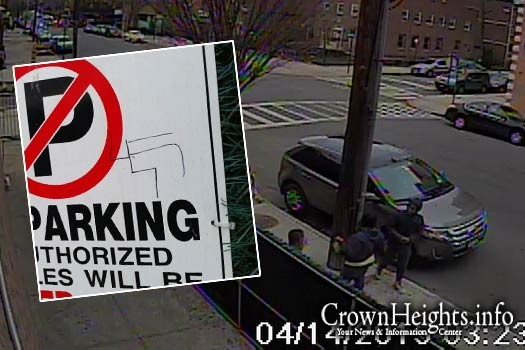 Teen Commits Hate Crime, Bystanders Enable Escape
Yesterday afternoon, an African-American teenager from a local high school drew a swastika on the property of a Jewish home in Crown Heights. When Shomrim volunteers were close to apprehending him, a few locals rushed him into an apartment building and away from the hands of justice.
The incident occurred Tuesday, April 14, at around 3:30pm – around dismissal time of the area high schools.
Surveillance footage obtained by CrownHeights.info shows a few teenagers – who appear to be heading home from Wingate High School – stop in front of the driveway of a conspicuously Jewish home on Kingston Ave. between East New York and Maple St. One boy then pulls out a marker and draws a swastika on the 'no parking' sign at the entrance to the driveway.
When the homeowner came outside to see what the commotion was about, the teen dropped the marker and fled. The homeowner immediately called Shomrim and gave chase.
Several Shomrim volunteers converged on the scene and gave chase to the perpetrator. They were about to close in on him on the corner of Kingston and Empire Blvd., when the perpetrator suddenly vanished. In front of a nearby building, several African-Americans were loitering, with smiles of satisfaction on their faces as they jeered at the Shomrim volunteers. Surveillance footage obtained later by CrownHeights.info reveals that the residents ushered the boy into the building's basement to hide.
At that point police arrived at the scene and began to investigate the incident as a hate crime.
CrownHeights.info held off on reporting this story until today at the behest of police to aid in the investigation.
This morning, Wednesday, New York City Public Advocate Letitia James, who previously represented Crown Heights as a councilwoman, released a statement condemning the hate crime:
"This is not simply vandalism, but a hate crime. On the eve of Yom HaShoah – Holocaust Remembrance Day – this senseless and offensive act is even more painful. As we prepare to remember and honor those who lost their lives during the Holocaust, and honor those who survived – we should not have to be distracted by bigotry and intolerance.
"Unfortunately, in this City and across the country, we have seen an alarming increase in hate crimes of all kinds. I am calling for increased vigilance by New Yorkers to report hate crimes against any and all communities," she said.