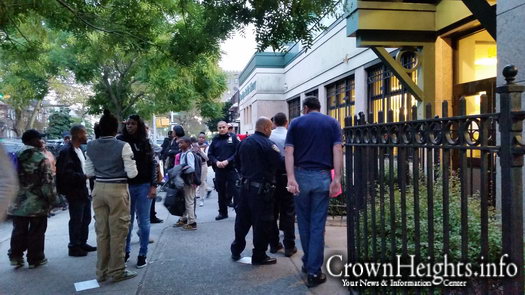 Jewish Girl Assaulted as Part of Sick New 'Game'
A sick new 'game' making its rounds on social media inspired a group of young teenagers to assault a 13-year-old Jewish girl in Crown Heights. The name of the game is 'What the he** are they?'
The game's objective is as follows: If someone is wearing nicer shoes than you, you must hit them on their feet or legs, shout "what the he** are they" and run away.
The incident occurred yesterday, Tuesday, October 28, at around 5:00pm.
The victim, a 13-year-old student of Beis Rivkah, was walking along Lefferts Ave. when three young teens – two girls and a boy – approached her. One of the girls shoved and kicked her, then shouted the game's mantra.
The victim did not immediately understand what they said to her, but later on, when police explained the 'game' to her, she recalled that it was indeed what had been said.
A passerby witnessed the assault and immediately called Shomrim. Others joined in and chased the assailant, who fled down Brooklyn Avenue, then down East New York Avenue and into the Public Library on New York Avenue and Maple Street. There she remained in an attempt to hide from police.
Police arrived shortly thereafter, and after Shomrim brought the witness – another young Jewish girl – the assailant was identified and taken into custody. She was discovered to be 'only' 12-years-old, and her parents were called down to the precinct.
The young assailant admitted to police that she attacked the Jewish girl as part of the 'game.'
After profuse apologies from both the assailant and her parents, and stern warnings to her from her parents and the police, the girl was released to her parents' custody without charge.
Anti-Semetic Hate
The scene at the Public Library on New York Avenue, where the assailant was stopped by Shomrim as they waited for the police to arrive, quickly descended into one of the ugliest displays of hate and anti-Semitism this reporter has ever witnessed. Adults shouted anti-Semitic slurs and called for violence against the Jews, simply for being Jewish and standing up for their rights.
"This is why I hate all them Jews; I would kill them all; I hate them all from 2 years old to 80 years old," shouted a black man who appeared to be in his 40s.
A black woman who appeared to be in her 60s yelled at the victim: "You don't call the police; next time someone hits you, you beat them back up!"
Many non-Jewish children standing around witnessed this ugly display of anti-Semitism, which will in all likelihood serve as a lesson and template for their behavior when they grow up. Instead of teaching these young children that walking up to a random person and assaulting them is wrong, and that there are consequences for such behavior, the adults standing nearby chose to blame the Jews for standing up for their rights, and even called for further violence against them.
Excellent education no doubt.