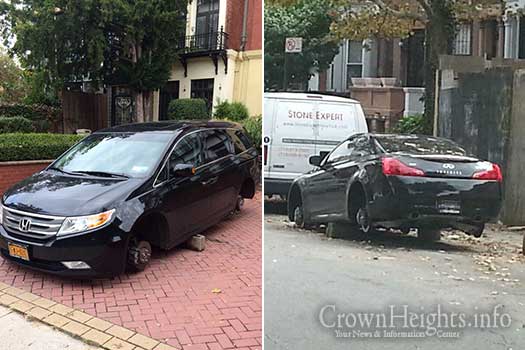 Thieves were hard at work Thursday night, stealing all four tires off two vehicles, one of which was parked in a driveway in front of the owner's home.
The thefts were discovered Friday morning, one on Carroll Street just off Kingston Avenue and another in the driveway of a home of President Street near New York Avenue.
The targeted vehicles were a brand new Infinity sport sedan and a Honda Odyssey minivan.
Officers from the evidence collection unit were later seen collecting fingerprints from the targeted vehicles in hopes of identifying suspects connected with the crime.
These thefts continue and highlight this often occurring incident, which continues with impunity and will continue until the thieves are caught. The targeted cars have been mostly new and in the upper range, particularly newer-model Hondas, though some older and cheaper vehicles have fallen victim as well.
In the meantime, be sure to protect your vehicle in as many ways as possible so you do not become a victim. Anti-theft lug nuts and car tilt alarms are two examples of relatively simple safety measures that can be added to a vehicle.
Remember, even if an added security measure isn't 100% foolproof, it will still likely deter thieves from targeting your car and cause them to move on to an easier target.