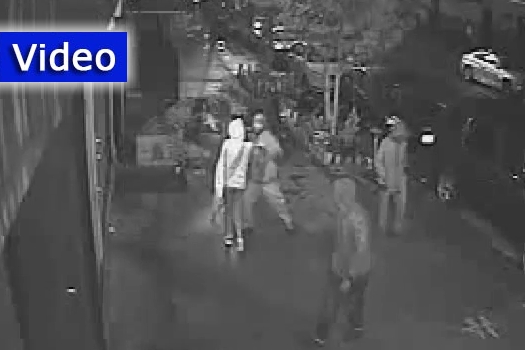 Police have arrested two of the three men suspected of viciously beating and robbing a young woman in Crown Heights earlier this month.
Hassan Dees, 24 of the Bronx and Kiah Morain, 24, of Brooklyn were both charged with assault and robbery in connection with the attack on Oct. 2.
Surveillance video shows three men cornering, beating and stealing the phone and purse of 21-year-old Gwendolyn Reyes on Franklin Avenue as she walked home from work. Weighing just 95 pounds, Reyes was left with a broken nose and black eye.
Hassan Dees and Kiah Morain have been charged with robbery and assault, the NYPD said. A third person of interest, identified as Douglas Sanjae, 25, is wanted for questioning.
Anyone with information on Douglas' whereabouts is asked to call Crime Stoppers at 1-800-577-TIPS.