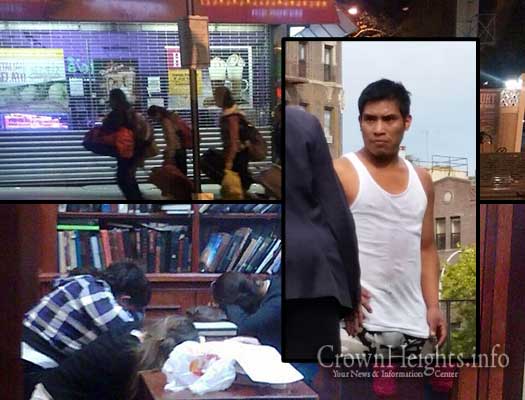 Israeli Girl Violated While Sleeping in 770
The NYPD's Special Victims Unit is investigating a report that a young woman, who is visiting from Israel for the month of Tishrei, was assaulted while sleeping in the women's section of 770. With the help of Shomrim, police have successfully apprehended the suspect, who has since been charged with the crime.
According to police sources, the incident happened inside the 784-788 portion of 770, which houses the women's section of the main Shul. The victim, a young Israeli woman, was sleeping in the stairwell leading into the women's section, when she suddenly awoke at around 4:00am and felt a man attempting to molest her.
The victim began screaming, causing the attack to stop and the perpetrator to flee.
Following a lengthy police investigation, a suspect, who works as a janitor in 770, was identified. Thanks to the instrumental assistance of Shomrim, police were able to apprehend the suspect and bring him in for a lineup.
This morning, police sources confirmed that the suspect, an Hispanic male who goes by the name Freddie, was picked out of a lineup by the victim. He was charged with a number of sexual offenses, including forcible touching and Indecent Assault.
Why Are Guests Sleeping in the Streets?
Recent 'news reports' that a philanthropist donated 'millions of dollars' to an organization which is supposedly dedicated to housing incoming guests for the month of Tishrei highlights this incident as especially troubling.
Why are women, many of whom have paid this organization 'nominal fees' to secure a place for them to sleep and eat for the month of Tishrei, seen roaming the streets at night with their luggage in tow in search of a place to lay their heads for the night? And why are they resorting to sleeping on Shul benches and tables?
Sources have confirmed with CrownHeights.info that the victim of this attack indeed paid this organization a fee, for which she was assured she would have a place to stay once arriving in New York. Instead, she spent three nights homeless, with no better place than a Shul bench to lie down and sleep.
The 'Hachnosas Orchim' organization in question released a statement following the incident, in which they admitted to a 'lapse' – in their words – and attempted to downplay the incident, saying they would take extra steps to make sure it did not happen again.
Visitors intent on spending the month of Tishrei in Crown Heights make admirable sacrifices in terms of comfort, but should not have to compromise on their safety. If they arrived with the promise of finding a place to stay, they deserve that safe place and not have to resort to benches in public places.
Vetting the 770 Workers
The incident also raises questions as to who is responsible for vetting, hiring and firing the janitors and handymen that work in 770. Are there background checks being conducted? Are references being checked?
We reached out to the Gaboim of 770 in an effort to have these questions addressed.
One Gabbai who answered his phone said "I heard rumors [of the incident] but no one came to ask me anything or said anything to me." When asked who is responsible for the workers, he answered "I do not know, I am not involved" and refused to direct us to the right person.