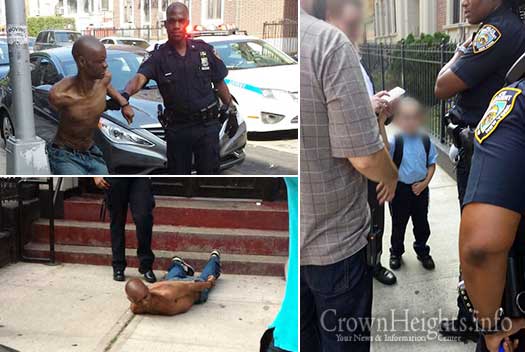 About an hour ago, shortly after 10:00am, a Crown Heights father was walking his five-year-old son to his first day at school, when they were both brutally – and randomly – attacked and injured by an assailant. A vigilant bystander heroically chased the man down and delivered him to the hands justice.
The unprovoked attack bore all the hallmarks of the nefarious 'knockout game' that has been plaguing the community recently. It occurred in the light of day in the heart of Crown Heights – on President Street between Kingston and Albany Avenues.
A vigilant neighbor heard the shouts and ran outside just as the perpetrator began to flee. The young man gave chase to the assailant, despite the fact that he was only wearing 'crocs' on his feet.
He pursued the man down President Street toward Troy Avenue, and then up Troy to Union St., managing to flag down a police cruiser on the way.
At the corner of Troy and Union, the assailant tried to escape inside an apartment building. The young man and a few officers followed him inside and caught up with him in the lobby.
The cops tried to place the man under arrest, but he resisted violently; the officers were left with no choice but to spray him with mace.
Once the suspect was under control, he was handcuffed and brought outside, where he was treated by EMS for his light injuries.
Aided by Shomrim volunteers, the father and his son arrived at the scene of the arrest to identify the perpetrator and press charges.