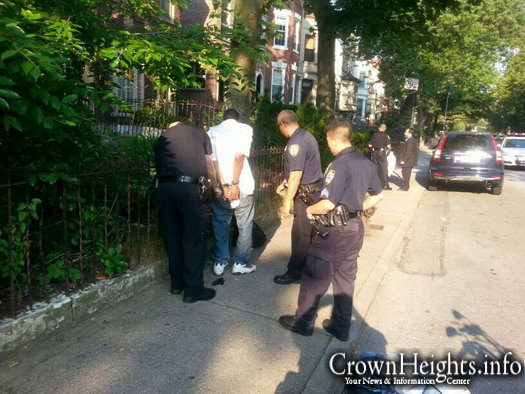 This morning, through the great work and cooperation of the NYPD, Shomrim and a vigilant homeowner, the man responsible for several burglaries on a single Crown Heights block has been arrested.
At about 7:45 this morning; a homeowner on the block of President St. between Kingston and Albany was leaving for Shachris when he spotted an African-American male crawling out of his basement window with a full garbage bag.
The homeowner called 911 and Shomrim, while discreetly following the burglar toward Albany Ave.
The Police and Shomrim showed up right away and apprehended the burglar on the corner of President St. and Albany Ave.
The garbage bag was found to contain anything and everything of value from that basement. From silverware and Jewelry to vitamins, instant coffee and shampoo. Nothing was spared; even a hook fixture was unscrewed from the back of a door and taken.
Meanwhile, Shomrim searched the alleyway behind the house and found another two garbage bags filled with what appeared to be stolen goods. The homeowner, however, said that these items did not belong to him.
After some investigation it was discovered that these bags and been filled with items stolen from two other houses on the same block, whose owners had no idea that their homes had been broken into.
A Shomrim volunteer informed CrownHeights.info that the police response to this crime was swift and effective, and commended the officers of the 71st precinct for a job well done in getting this criminal off the streets.
Update: The 71st Precinct has reported that this individual is of extreme interest and may be connected to the other house burglaries in the general area. He is currently homeless and has a long arrest record with 19 priors, of which two are for burglary.