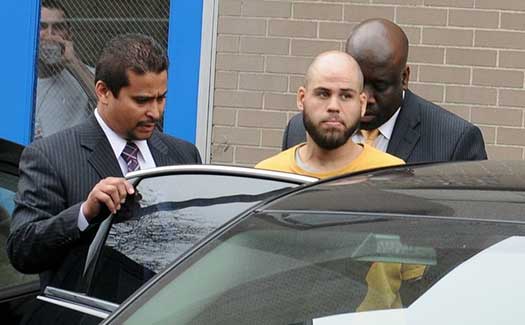 Mezuzah Arsonist Confesses, Retaliation for Jews Burning Chometz
Its no joke, the suspect accused of torching a dozen mezuzahs in Williamsburg this week has confessed to hate crime charges. According to his own social media posting it was retaliation for burning Chometz! After being pressed by cops he finally admitted his role in the arson's.
Ruben Ubiles, 35, was charged Thursday afternoon with burglary as a hate crime, arson as a hate crime and criminal mischief as a hate crime, police said.
He confessed to the charges when questioned about a lengthy Facebook post he'd written to profess his innocence on Wednesday before he was taken into custody, according to sources.
"WHEN JEWS BURN WOOD AND GARBAGE ON EBERY CORNER, ITS OK TO POLLUTE THE SURROUNDINGS," Ubiles had written in the rambling post, which mostly contained denials that he had committed the crime.
But when police pressed him about that line in the post, Ubiles admitted to burning the mezuzahs in retaliation for what he saw as a disruption in the neighborhood, sources said.
The post has since been deleted, along with his Facebook profile.
Ubiles was also hit Thursday with non hate-crime charges of reckless endangerment, arson and criminal mischief.
Ubiles — who has been arrested about 50 times, most recently for stabbing his girlfriend's foot — had been taken into custody Wednesday morning and brought to Brooklyn's 81st Precinct stationhouse in Bedford-Stuyvesant, where he was questioned about the burned religious objects.
He was held Thursday for violating an order of protection while cops continued to question him about the fires, sources said.
Cops escorted Ubiles from the stationhouse about 1:45 p.m. Thursday. Police confirmed the charges shortly afterward, saying surveillance video placed him in one of the buildings at the time of incident.
Ubiles was accused of torching 11 of the mezuzahs, which are affixed to door posts, inside of 85 Taylor St. on Monday and then another one within 130 Clymer St. the next day after cops spotted him on security footage from one of the buildings.
The ornaments, called mezuzahs, contain parchment scrawled with Torah passages meant to bless the home.
"im going to get my name cleared," Ubiles wrote in the Facebook post Wednesday. "one thing i wouldnt do, aside from my history, im know for getting into fights~ NOT WASTING MY TIME ATTEMPTING TO DESTROY WHAT "THEY" CLAIM I HAVE TORCHED. IM KNOW FOR FIGHTING, NOT ARSON."
Ubiles's grandmother, whom he lives with, said Wednesday that cops had the wrong man because he was not anti-Semitic.
"He doesn't have anything against Jewish people. He's nice to them. They're nice to him," said Betra Velasquez, 79. "They only got his picture. They don't have film of him doing it. They don't have no proof."