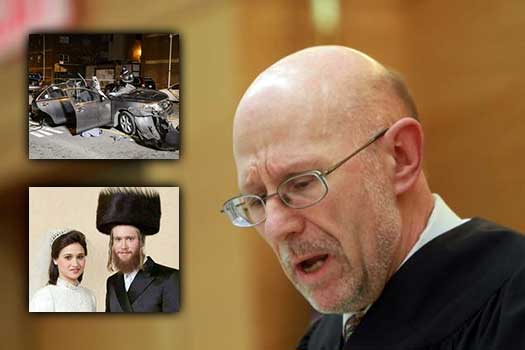 SHOCKING: Judge's DWI Ruling Kept Hit-n-Run Driver Behind the Wheel
When Julio Acevedo was arraigned last month on a drunken driving bust, a Brooklyn judge not only refused to set bail, he declined to suspend the ex-con's license — even after being told it was mandatory.
Court transcripts show Brooklyn Supreme Court Justice Michael Gary fumbled on the law and released Acevedo, 44, after a Feb. 18 arraignment. With an active driver's license and no bail, the felon was free to speed a borrowed BMW into a livery car, killing a young Hasidic couple in Williamsburg about two weeks later.
Nachman and Raizel Glauber's son, delivered by C-section after the March 3 wreck and weighing less than 3 pounds, died the next day.
Gary, a judge for 26 years, had said that if he was wrong about the mandatory license suspension in February, a judge could correct him during the next court date on April 10.
Records show the prosecutor, Ashley Ford, tried to keep Acevedo behind bars after the DWI arrest. And she wanted his driver's license suspended.
"The defendant has a bench warrant history and is not recommended for release," said Ford, requesting $5,000 bail and noting that Acevedo was apprehended chasing a cabbie who had cut him off.
Gary released the lowlife without bail and ordered him to attend an alcohol screening. Ford then pointed out that state law required the judge to suspend his license.
"I believe the statute requires that the license be suspended," she said, according to the arraignment transcript. "I'm not quite sure it's discretionary."
But the judge disagreed, telling Acevedo he could have his license back despite registering a 0.13 blood-alcohol level in a breath test.
"I don't believe that I must do it …," Gary said. "If I'm wrong, the judge can correct me on April 10 (Acevedo's next court date), but I think I'm correct."
Gary was handling arraignment court during the February hearing, part of a rotation in which Supreme Court justices each fill in five days a year. He declined to comment Tuesday.
Courts spokesman David Bookstaver said, "Judge Gary acknowledged that the law in fact required him to take the defendant's license at the time of the arraignment."
Defense attorney Todd Greenberg, who specializes in vehicular crimes, said the statute requires a license suspension if a driver blows the legal alcohol limit of 0.08.
Acevedo is expected to be indicted Wednesday for leaving the scene of a fatal accident and criminally negligent homicide.
"If he goes behind the wheel drunk, he could have gone behind the wheel without a license," Isaac Abraham, a leader in the Hasidic community, said Tuesday when told of the judge's mistake.
A former prosecutor, Gary was appointed to the bench in 1987 and promoted to the Supreme Court in 1994. He primarily presides over felony cases.
"I'll have to say it's because he's not regularly there," Greenberg opined when asked what could have caused the error. "Most criminal court judges who deal with these cases on a regular basis are aware of this provision and automatically suspend the license."
Brooklyn District Attorney Charles Hynes declined to address the license issue, calling Gary a "fine judge."
Reached at his Williamsburg apartment, Raizel Glauber's grieving father, Yitzchak Silberstein, told The News, "It will not bring them back, my children, and that's all."
Related Articles:
Tragedy: Couple Killed in Horrific Crash en Route to Hospital
Hope Turnes to Deeper Mourning as Baby Dies
Police ID Driver of Speeding BMW
Crash Victims Emotional Wedding Day Letter to his Parents
The Best and Worst of Brooklyn Collided