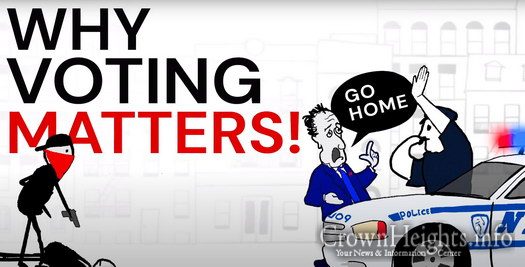 Video of the Day
Yup, it's simple. No vote, No Voice, No complaints when the elected officials don't care what you need, want, or think. See for yourself.
Dear Anash
As a community, we have the obligation to ensure a better future for ourselves and our children.
This election, a blatant anti-Semite is running for city council of the 35th district.
THIS IS OUR DISTRICT AND EFFECTS 85% OF CROWN HEIGHTS
Michael Hollingsworth has no shame in declaring his position either.
We must take action and ensure that he doesn't win the election.
As a community, we need to unite and support Crystal Hudson for City Council!
Crystal is the only candidate that can win against Hollingsworth.
This will come down to a few thousand votes. Every member of Anash must vote.
If you are registered democrat, please go out and vote so we can make sure our community is protected.
Early voting starts June 12-June 20th
Find your poll site here
https://findmypollsite.vote.nyc
Vote Crystal Hudson and Vote early!