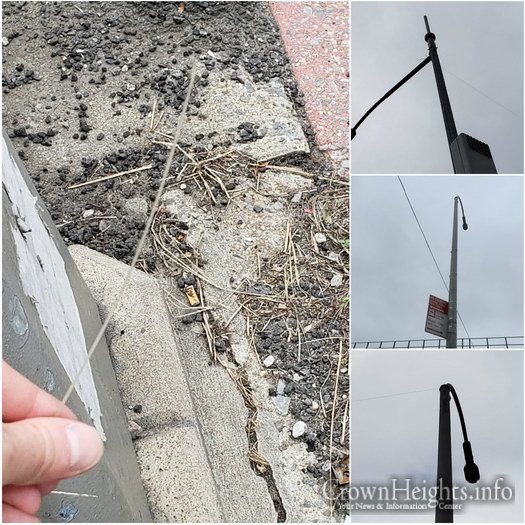 The "Greater Crown Heights Eruv" has been down for nearly two weeks, says a CrownHeights.info reader who sent us photos of the break in the Eruv. The break, on Atlantic Ave between Schenectady and Utica Ave, was still there dispite repeated attempts by the reader to contact those managing the Eruv.
Congregation Kol Israel of Prospect Heights, under whose auspices the Eruv was established, send out weekly updates on the condition of the Eruv. Yet the past two publications say that the Eruv is still standing and Kosher.
CrownHeights.info went to the site of the break and confirmed that the report was accurate, and that the Eruv had not been fixed. Attempts by CrownHeights.info to contact Congregation Kol Israel of Prospect Heights were unsuccessful at the time of this articles publication.
Update 12:02pm: CrownHeights.info was contacted by Eli Uminer, one of the people in charge of upkeep of the Eruv, who clarified that the section of the Eruv down, has not been in use for a period of time. The strings that were seen down had been replaced by stretching the Eruv line to the elevated train tracks nearby. This connection is in use from Nostrand Ave, through Ralph Ave, and that the old Eruv string had not been removed due to the cost.
Update #2: In a formal statement by the Board of Trustees of Congregation Kol Israel where they clarified;
"The eruv is up, and has been up. The "break" that you see is not part of the eruv. The route changes, as needed, based on the needs of upkeep and construction. When the route changes in a way the effects the actual boundaries (which was not the case in this change), we update the map as needed. For the security of the eruv, we do not publicize every change like this. Also, based on past experience with sabotage and rumors, we are wary of responding to e-mails from people we do not know claiming the eruv is down.
"The eruv is inspected weekly by a highly trained individual, and maintained. The eruv has, in fact, been up every single week that your article states it was down."
In preparing for this article CrownHeights.info attempted to reach out to a number of people that have been involved in establishing the original Eruv and were turned down saying they were no longer involved. In visiting the Eruv's official website at crownheightseruv.org, there is no contact information posted, nor is there a current status of the Eruv posted either.
In reading the statement from the trustees they made it clear that they ignored communications regarding the Eruv's integrity due to being wary of "responding to e-mails from people we do not know."