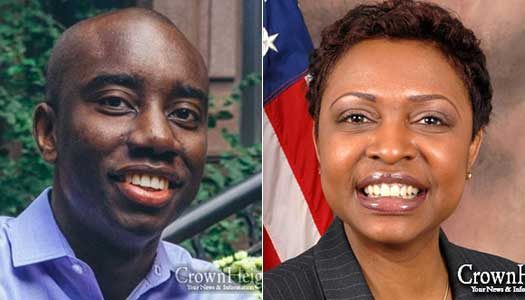 Seeking to unseat the local incumbent, Adem Bunkeddeko is challenging Rep. Yvette Clarke in the Ninth Congressional District, which represents parts of Brooklyn including Crown Heights. Though he faces an uphill battle, he received support from the New York Times who endorsed him over the incumbent, citing her lack of legislative accomplishments during her tenure.
by CrownHeights.info
With elections for the New York Democratic Primaries, incumbent Rep. Yvette Clarke is facing a challenge in the form of 30-year-old Adem Bunkeddeko, the son of Ugandan war refugees, who grew up in Queens.
Bunkeddeko also snagged an endorsement from The New York Times.
Clarke has repeatedly drawn the ire of her Jewish constituents with her recent insensitive comments evoking Nazi analogies on the eve of the Holocaust Memorial Day. As well as her support for the "Iran Deal" then later declaring it an "easy choice."
Clarke also signed a slanderous and anti-Israel letter to then President Barak Obama, requesting "the protection of Palestinian children from Israeli abuses."
The Times wrote that Clarke's "major legislative accomplishments have been regrettably far between in her tenure in Congress. Residents of Brownsville, Park Slope, Prospect Lefferts Gardens, Flatbush, Sheepshead Bay and Crown Heights deserve a more energetic advocate in Washington."
The Times noted Bunkeddeko's being an "energetic young community organizer" and his impressive resume. "Mr. Bunkeddeko has said that he wants to focus on bringing federal housing dollars back to Brooklyn, of critical importance to a district that includes neighborhoods from Park Slope to Crown Heights where rents have soared, putting enormous pressure on poor and middle-class New Yorkers. One of his proposals — to fight for Mitchell-Lama-style developments that could include tens of thousands of units of affordable housing — may be a difficult sell in Washington. But that kind of big thinking is refreshing, and sorely needed in Congress. And he has promised to broaden constituent services to offer much-needed legal services to immigrants and other residents" wrote the Times.
Meanwhile, a collective billing themselves as the "Crown Heights Jewish Community Coalition" have endorsed Clarke citing her purported success in freeing Sholom Mordechai Rubashkin from prison by "successfully petitioning President Donald Trump".
Oddly though, this collective first coming into formation during the last elections, had one of its members, Rabbi Shea Hecht, break with the group in its endorsement for Brooklyn District Attorney and claiming he was not consulted with. When asked today about his endorsement Hecht said "what coalition? I don't know anything about a coalition" implying he was never consulted with and that he is not part of any coalition.