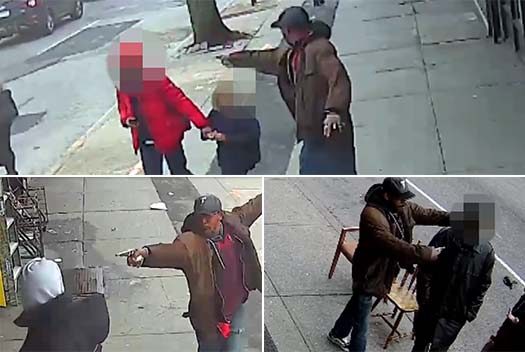 Planned protests following the death of an emotionally disturbed man has the Jewish community in Crown Heights on edge, and police beefing up their presence in an effort to head off any unrest. Video of the man menacing a number of people, with what appears to be a firearm, moments before he was shot was released by police.
by CrownHeights.info
No less than seven different protests appear to be planned following the death of Saheed Vassell, 34, an emotionally disturbed man who was shot and killed by police officers who were responding to 911 calls of a man menacing people with a gun.
In surveillance video, captured on cameras from stores all along Utica Avenue, Vassell can clearly be seen walking up to people and pointing what appears to be a silver firearm at people, one of them was a woman walking with a child.
The videos were released ahead protests that are being advertised as social media, and that have activists within the Jewish community worried. "There are outside agitators that clearly want to take advantage of a tragic situation, and we are seeing 'dog whistles' for what clearly mean that unrest or outright violence is planned by these agitators," said one community activist.
Police in turn have brought in reinforcements, with hundreds of additional police officers from all five boroughs streaming into Crown Heights.
In a statement police said "tonight there will be numerous extra cops patrolling the Crown Heights area, assuring the safety of all communities and everyone to worship in peace and safety."
Crown Heights Shomrim issued an informational alert that urges residents to keep alert and be safe. They noted that the protest route is planned to run from Utica Avenue and Montgomery Street all the way to New York Avenue – right through the heart of Crown Heights' Jewish area.