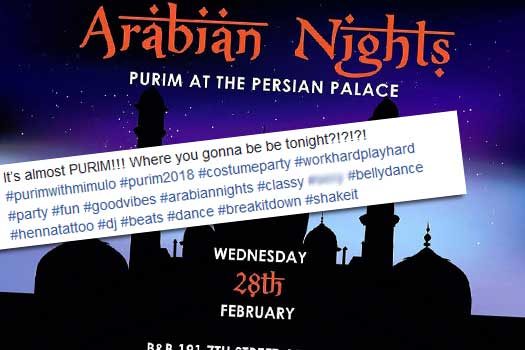 A "party" hosted on Purim eve was reminiscent of the party that was hosted by King Achashverosh, replete with mingling, food, live music and even a belly dancer, has drawn widespread shock and outrage – even forcing a Kashrus agency to rethink their policies for parties at venues they certify, and the venue to distance itself from the event.
by CrownHeights.info
Dubbed "Arabian Nights – Purim at the Persian Palace" the event, which took place on Purim Eve, the 28th of February, promised live entertainment, Arabian food, a hookah lounge and even a belly dancer in 'Persian' attire.
The event was organized by a number of Crown Heights and Chabad based establishments, clothing designers, hair stylists and social media personalities and was heavily promoted ahead of the event and was set to take place in Downtown Brooklyn at Bison and Bourbon, a popular restaurant and event venue.
And the party delivered all it promised, drawing vocal outrage and disgust.
Pictures on social media showed bearded men watching a scantly clad dancers, and videos showed unabashed mingling and mixed dancing, with no proper mechizta in sight. "It's so ironic," noted a social media commenter, "to hold such an event on Purim when the Jews were endangered for attending Achashverosh's party. The food back then was also glatt kosher…"
An attendee, who declined to be quoted by name, said that friends invited her to a Purim celebration with good food. "When I arrived I couldn't believe my eyes. The scene was completely lewd. I just got up and left" she said.
Photos and videos seen posted on various social media platforms by CrownHeights.info staff the night of the event have been meticulously sanitized and deleted. One angry community member alleged that "foreseeing the outrage from the Chabad community organizers instructed that attendees share photos on Instagram Story only."
Instagram story is a social media post which gets automatically deleted after a set amount of time.
Curiously, nearly all promotion posts on social media have been removed by the party's hosts and organizers.
In a statement the OK Kosher said:
"When we certify food service establishments we outline specific guidelines that must be followed, not only for the food but for a kosher atmosphere as well. Much to our dismay, we learned that our guidelines were not followed at this event. Going forward, we will review our policies and guidelines and make necessary adjustments to ensure that we can enforce our standards."
Bison and Bourbon also released a statement vehemently distancing themselves from what took place. "It is very important, and we want to make it clear that we never would have done anything to bring shame like this to our business, community or to the OK," they said in a statement. "In addition to this as soon as our staff saw this happen they stopped it from continuing. It is also important to know that we had no control of the advertising of this event and that none of the management of Bison & Bourbon took part of any decision that were made for this event."
bison bourbon purim party letter

Some of the remaining posts on social media: