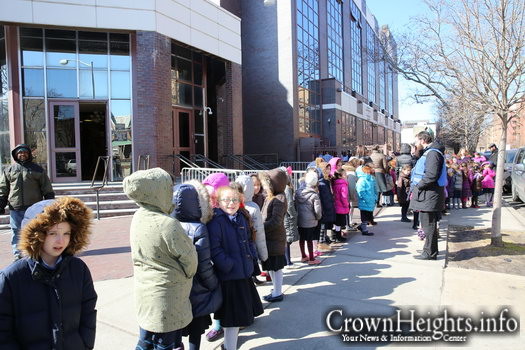 Beis Rivka Students. Illustration Photo.
Just weeks after a campaign to raise $1.3 million, teachers in Beis Rivka were informed that there wouldn't be payroll this week, and that there is no projected date for when they will receive it.
by CrownHeights.info
An email from one of the school's principals, Mrs. Dina Brawer, informed the division heads of the school that this week's payroll was being postponed.
Dear Teachers,
I am passing on this message to you from the board.
There will be no payroll this week. The board is working on the payroll and hope to release it soon but they have no projected date as to when they will do so.
Mrs. Boas said if you have any questions she can be reached at extension 1310.
Thank you,
D. Brawer
This notification came just a few weeks since the school completed a successful matching funds campaign which raised $1.3 million.
CrownHeights.info reached out to Yerachmiel Jacobson, a member of the board of Beis Rivkah, who spoke candidly, saying "the money from [the matching] fundraiser went to pay that week's payroll and pledges are still coming in from the donors."
When we pointed out that one payroll isn't a million dollars he clarified that over the years prior to the board taking over the school incurred a lot of debt, and a number of those matchers were simply forgiving that debt. So in essence the only money raised was the $350,000 from the individual donors.
Each bi-weekly payroll is estimated at around $350,000.
Jacobson pointed out that the school is current on all its financial obligations, "a major accomplishment on its own" he said. Adding, "in the past when a check did not come no one said anything, no one informed anyone, at least now we are letting them know and we hope and expect to have it taken care of in the next few days."
He also said that recently the financial office was uprooted and things are "messed up", "there is no cheshbon or seder and everything needs to be redone. There are many accounts all over the place and this is what we are working on and making more normal."
When asked how he feels the school is doing he said that there is a lot of goodwill and support right now, he pointed out that two years ago some of those that donated would not have done so today. "The environment is slowly changing and getting better, but it won't happen overnight."