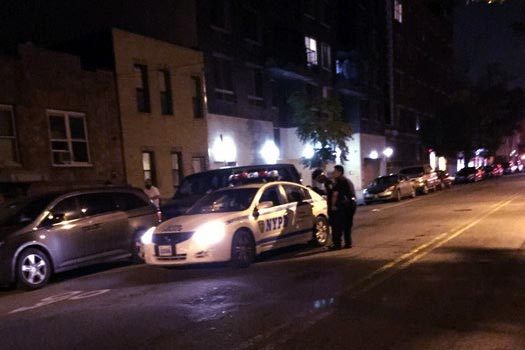 President Street residents are up in arms over a 4:00am 'wake-up call' they received courtesy of an NYPD patrol cruiser announcing that residents must come out and move their cars. One reader, Amir P., was so upset that he called it "brutality" and authored a letter about this shocking experience.
by Amir P.
Police Brutality Exercised Against Men, Women and Children – Jews and non-Jews alike, on an Entire Crown Heights Block!
This morning (Rosh Chodesh Kislev – November 19th) just before 4am, the entire block of President Street between Albany and Kingston Avenues, was subjected to inexcusable police brutality. No, there were not beatings, forced arrest or anything of the sort, nor was there any discrimination between Jews or non-Jews. This was indiscriminate brutality, DELIBERATELY waking up an entire block at the wee hours of the morning.
And yes, going slowly through a residential block with sirens on, when there's no emergency, and calling out on the loudspeakers to people to come out and move their cars (where exactly should they be moving their cars to at 4am in the rain) is nothing short of brutality.
Needlessly waking up children that need their sleep and have to get up just a few hours later to go to school (not to mention that their school bus was harassed trying to enter the block for the pickup, rather than just be let in immediately), waking up a mother who just managed to fall asleep less than an hour before after tending to a crying child, disturbing the rest of an elderly person, or just a someone who needs to get up and go to work a few hours later. All of those, while not leaving any visible bruises, are forms of brutality.
What's more infuriating is that this was totally needless!
Last week, signs were put up on the block saying "No Parking Sunday".
Oh, you might say, so everyone was warned, why did people park there?
Well the thing is that the residents of this block are extremely lucky (and experienced).
Come Yud Shvat, Yud Aleph Nissan, the block is taken over and used FOR A FEW DAYS as a staging area for Mitzvah Tanks (why can't the staging be done in a non-residential area, and the tanks just brought in just before the parade?).
Come summer time, the block is blocked off at least 3 times with buses taking kids to camps or returning from camps.
Come Tishrei, the block is closed off for Kaporos.
We, the residents of the block are accustomed to this, we have even learned to put up (though we shouldn't) with the garbage left behind by all of the above. But you see, since we are accustomed to the signs going up, we know that when I sign goes up saying NO PARKING SUNDAY, that would generally mean from some reasonable day-time hour (and by the way, that is probably what was even meant this time around – by 11am there were no buses or anything else parked on the block).
Had it indeed been important that no cars were parked on the block (I doubt whether anyone on the block was asked for consent for this), there was ample time on Motzoei Shabbos to put notices on the cars parked, go door-to-door, or maybe even use sirens and loudspeakers to tell people to move the cars.
But indiscriminately waking up an entire block, whether one had a car on the block or not, at 4am can only remind us of dark times when people were rounded up in the middle of the night! If I were a car owner that made sure that my car isn't parked on the block even for 1 minute on Sunday November 19th, I was still woken up. If I'm an elderly person that doesn't own a car, I was still woken up. If car rental agencies leave their cars parked on our block, with the owners not even living here, the entire block was still woken up, with the people that have the keys not even hearing the announcements.
I had confronted one community affairs police officer about this. He admitted to me that it was wrong, said he would try to find out who did it, and make sure it wouldn't happen again. However, then came out the truth. He said it has only happened once before, about a year ago. I am sure that if he's aware of this happening before, someone did complain. Obviously, that didn't stop it from happening now, so why should we trust any assurances that it wouldn't happen again?
This incident of police brutality should not be hushed or let to rest without consequences. At the very least, a LOUD and PUBLIC apology, by both the officer that dared wake up the entire block, and by all his superiors should be called for. Something must be done so that this incident is remembered so much, at it should not be allowed to happen again.
On a side note, the residents of the block welcome the fact that this time around, the big zchus of hosting Mitzvah Tanks was shared with other blocks, and congratulate the block of Carroll Street between Brooklyn and Kingston for hosting the tanks this time around. It would be nice if the Zchus could be shared by all members of the community, and maybe a rotation of blocks should be put in place, so every block in the neighborhood has the zchus.