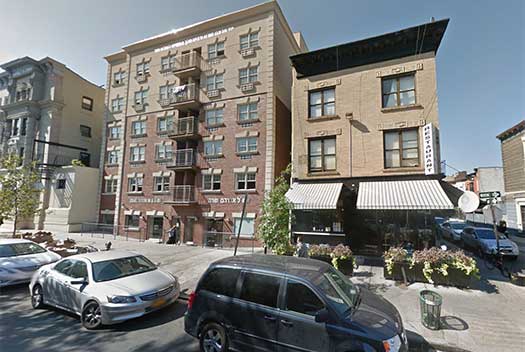 A Lubavitcher has initiated a federal lawsuit against Eshel Hachnosas Orchim and its owner R' Menachem Mendel Hendel over what he claims is a for-profit hotel being illegally operated out of building in Crown Heights. DNAinfo has profiled the lawsuit in an article describing bother parties as "Mishechistim", and that the social services organization was meant to provide shelter for the needy, but instead charges Manhattan prices for its rooms.
CROWN HEIGHTS — A Brooklyn Orthodox Jewish charity whose mission is to help the needy has been operating an illegal hotel charging Manhattan prices, officials said.
The Chabad Lubavitch Hospitality Center at 272 Kingston Ave. — which was set up to provide "free meals and cash assistance to the needy and a religious publication" — was issued multiple violations for "illegal transient use" on July 21 by the Mayor's Office of Special Enforcement, a spokesman said.
The center had also been operating without a valid certificate of occupancy for more than a year, according to Department of Buildings records.
A receptionist at the center told a DNAinfo reporter that it charges between $130 and $300 per night and includes rooms that sleep up to six people.
Manager Carlo Minkowitz said the center operates as a "religious accommodation house" for people in need, but that it also rents rooms to the general public.
The center has more than 35 reviews online under the name "Eshel Hotel" and was listed on at least one international Jewish site.
The mayor's office, which at first said there was no history of hotel use at the address, inspected the building and issued violations after DNAinfo presented them with evidence of potential illegality.
"They are not supposed to operate as a hotel," the mayor's spokesman said after the violations were issued.
One guest who stayed in the building last spring told DNAinfo he paid in cash but was not given a receipt.
In mid-June, a neighborhood rabbi filed a federal lawsuit claiming the nonprofit was taking advantage of poor Israelis by charging them to stay in the hotel.
"My mind is justice. My mind is don't use the poor people," said Rabbi Nachman Nachmenson, who has been living in the building with his wife and 10 children after they were kicked out of a city shelter. "They use these people, they use these Israelis for raising money for [themselves]."
The money generated through the hotel has gone to a network of schools with a questionable history of serving students, including improper bookkeeping of its meal distributions to children, authorities said.
The nonprofit sent hundreds of thousands of dollars to three religious schools where its executive director, Menachem Hendel, is listed as a trustee and board member, according to a 2015 tax filing.
The group gave more than $445,000 to Congregation Ohr Menachem in 2014 while claiming more than $3 million that year from contributions, grants and program service revenue, according to its nonprofit tax filing.
The congregation serves more than 250 students from nursery school through the 12th grade at three separate locations, state Education Department officials said.
However, the schools failed to maintain proper records of the number of students served for at least four years, and summary sheets of cafeteria distributions "were destroyed," according to education department officials and a review of the schools' lunch programs filed on March 29.
The congregation also took in more than $230,000 from the federal government and $8,000 from the state in reimbursements during the 2013-2014 school year, officials said.
Last week, two administrators for Williamsburg-based Hasidic school system the Central United Talmudic Academy were indicted Thursday on charges they took $3 million in federal funds to feed children, but did not provide all the meals they were reimbursed for, Brooklyn federal prosecutors said.
FBI agents also raided Hasidic schools in Brooklyn affiliated with the academy in 2016, Forward reported.
The academy did not appear to be connected with Congregation Ohr Menachem.
The Chabad Lubavitch Hospitality Center and the three schools receiving money from the nonprofit are both affiliated with a Lubavitcher sect called "meshichists" that believe the movement's influential leader, Menachem Mendel Schneerson, who passed away in 1994, is the messiah.
Nachmenson, a meshichist himself, said he has risked being ostracized from his community for speaking out and labeled a "moser," which he explained is used pejoratively to refer to a Jewish person who informs on other Jews to an outside entity like the secular court system.
"I do see for many years what's going on over there [at the hotel]," he said, "and enough is enough."
A person who answered the phone at Hendel's home said he was not there and hung up when asked to leave a message.
An email sent to the Chabad Lubavitch Hospitality Center was not returned.
Additional reporting by Rachel Holliday Smith