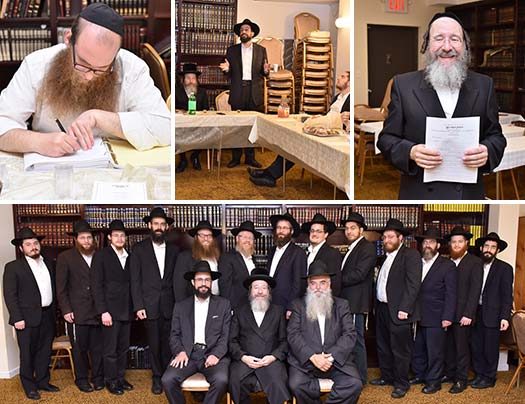 Over this summer, 44 devoted teachers perfected their classroom and teaching skills through Igud Hamelamdim's comprehensive training course.
The five-week course, presented by the renowned mechanech Rabbi Michel Rottenberg, has trained in the group of teachers this summer with the fundamentals of effective teaching. The course has earned the praise of teachers and principals for its time-honored methods, lucid delivery, and down-to-earth guidance. Numerous graduates of the course have already been placed in schools around the country.
Fresh teachers were not the only in attendance. Rabbi Zev Weinstein, a longtime melamed in Oholei Torah, joined to improve his skills. "The lessons are incredibly pragmatic and sensible. You get a better appreciation for what your students need to reach their potential."
Graduates gathered in Crown Heights on Tuesday evening for a ceremony marking the conclusion of the course. Igud Hamelamdim director Rabbi Avrohom Bluming applauded the dedicated teachers, and shared the Rebbe's assurance that chinuch work is a source for all brachos.
Veteran teacher Rabbi Osher Oster addressed the graduates: "Why is the mitzva of chinuch not written in the Torah? The Rebbe explains that chinuch is about the foundation of Torah – that children accept Hashem as King and commit to fulfil His mitzvos. Children are receptive to this, as long as we really mean it."
Rabbi Zushe Wilhelm, principal of Mesivta Oholei Torah, emphasized the distinction of a teacher. "I was once at a simcha where they called a teacher for a bracha by saying 'Rabbi … who has taught parshas Vayikra to over 300 students.'" Melamdim hold the key to the future of our children, and we should salute them.
Rabbi Rottenberg encouraged the teachers to unite with parents to be on the same page. Working together, they can do incredible good for our children's success.