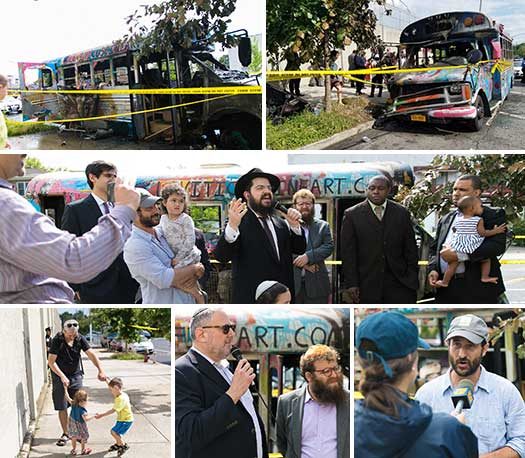 A handful of community members and activists gathered on Troy Avenue at the site where a Jewish artists "Art Bus" was torched in an incident which police are investigating as a possible hate crime. Singer Benny Friedman was on hand and performed his hit song, which was filmed using the bus.
A few dozen residents and activists gathered on Troy Avenue and Maple Street at 3:30 Tuesday afternoon to "Rally Against Hate", at the site were an art bus – dubbed the Mitzvah Bus – was torched on Sunday night.
The bus is well known sight in the Jewish community, regularly seen at local festivals, and was featured in singer Benny Friedman's music video "Ivri Anochi."
Benny Friedman himself was on hand and performed the hit song in front of the gathered crowd.
Owner and artist Leviticus Schieber described the events after discovering his bus was torched "I was pretty shocked," he said, adding that he then went about his business and tried to figure out what to do next.
Initially the fire was believed to have been caused by an electrical short, but surveillance video later revealed that a man was seen next to the bus when the fire broke out. Police are considering the incident a possible hate crime.
The gathering was organized by community activist Yaakov Behrman, along with Sruly Meyer and Avram Zamist.
Photos by Meir Pliskin Photography