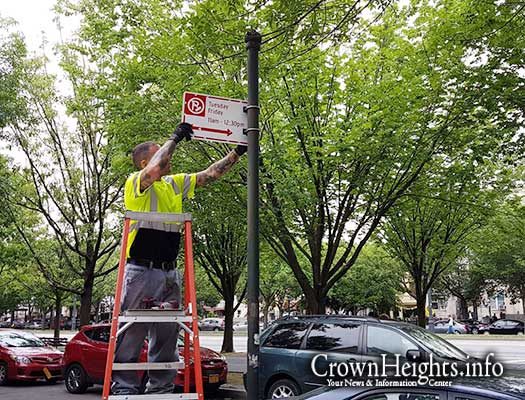 Shabbos Parking Rules Suspended on Eastern Pkwy.
A pilot program launched by the City of New York to cut Alternate Side Parking Rules on Eastern Parkway, will give Shabbos observing residents some parking reprieve.
As recently as last week residents began seeing Department of Transportation workers on Eastern Parkway replacing the ubiquitous street cleaning signs with ones that no longer require motorists from moving their vehicles on Saturday, an issue which plagued Jewish residents for decades.
Through collaboration between the Environmental Protection Committee of Community Board 9, the Mayor's Office, and the Department of Sanitation a 3 month test period was launched to test the impact this change will have on the parkways cleanliness.
In a statement from Rabbi Yaacov Behrman, the chairman of the environmental committee, he wrote "Accordingly, we strongly encourage local residents, organizations, and businesses to comply with this regulation, and make every effort to keep Eastern Parkway clean. There is a high probability that the Department of Sanitation will resume Saturday street cleaning if there is a significant increase in litter."
As of today a number of streets have seen the new signs already installed, but many streets have not yet been updated. Motorists are urged to double check the signs before parking.