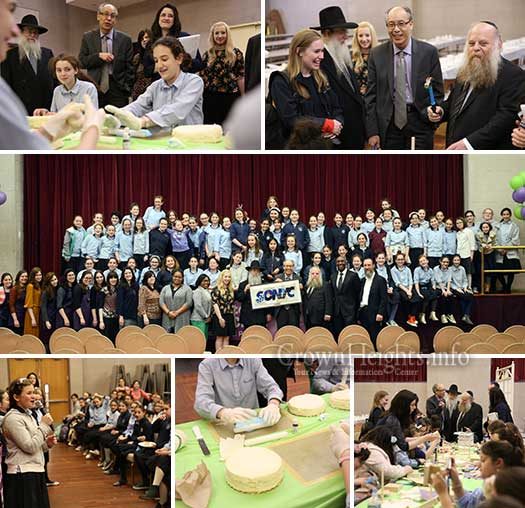 At the end of every school day, instead of rushing home, some one hundred Bais Rivkah students stay behind for the school's Teen Club. A visit by the NYC Youth Commissioner, whose office sponsors the program, left him with a profound impression.
The program is the result of a partnership between Bais Rivkah and the Jewish Community Council of Greater Coney Island, which facilitates the grant from the Dept. of Youth and Community Development (DYCD).
The DYCD runs over 900 programs throughout the city, and its commissioner, Mr. Bill Chong, chooses a handful to come and visit personally each year.
The DYCD guests were welcomed to the program by Rabbi Moshe Wiener, the Executive Director of the Jewish Community Council of Greater Coney Island; Rabbi Benjy Stock, and Bais Rivkah's on-site program staff.
After a meeting discussing the importance of after school programs and the needs of the Crown Heights community, the guests were led through the program, observing the various activities and interacting with the students to hear from them the benefits the program.
The girls shared with the commissioner many reasons why they love the program, and the benefits that they gain by being a part of it.
At the end of the tour, the students assembled to thank the commissioner and present him with a gift that was hand-crafted by a group of the students. A panel of students thanked the Commissioner and the DYCD staff for giving them this opportunity. The Commissioner was amazed by the gratitude of the students, their positive energy and enthusiasm.
The Bais Rivkah Teen Club is an after-school program for the school's 6-8 graders that provides nourishing food, homework support, and stimulating recreational clubs and workshops. It has begun its fifth year with much enthusiasm. Because it is government funded, all the participants enjoy the program absolutely free.
"The program keeps kids in a very positive environment, giving them a fun time without the need to seek out other things, and keeping them with friends," said one of the program staff members.
"Another aspect is giving children the ability to explore different interests, whether it's guitar lessons, cake decorating, hairstyling, computers and graphic design, woodworking, dance, drama or photography – giving them an idea of something they would like to pursue after they graduate," she said.
For more information about the program, e-mail Afterschool@bethrivkah.edu.