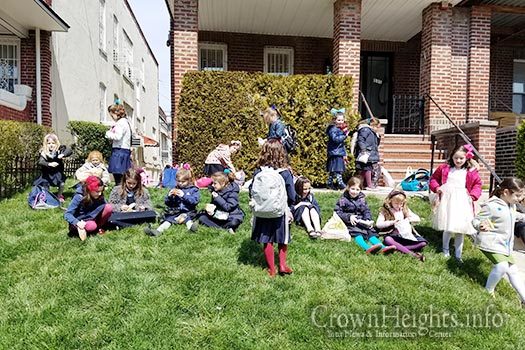 A class Beth Rivkah students learning learning in the front yard of a teachers home on April 3rd after a work strike by teachers forces classes to take place in private homes.
In a letter to parents, Beis Rivkah Primary Teachers in grades 1 through 3 write that they are forced to continue a work strike, which began before Pesach. Representatives for the striking teachers alleged that the administration was actively preventing the teachers from being paid by the board, a charge which was vehemently denied by a source close to the administration, who told CrownHeights.info that "nothing has changed."
The following is the letter from the teachers:
Dear Parents,
We hope you all had an enjoyable Yom tov.
We have met with the new board. They made it clear to us that they stand behind their commitment to Bais Rivkah and would like to move ahead with paying the teachers the money owed.
The board had also explained to us that the current administration is not allowing them to fulfill their commitment.
Unfortunately, we the teachers are forced to suspend school until this is resolved.
Signed,
The Primary Teachers
Grades 1-3
CrownHeights.info requested that clarification be made on the accusation that the school administration was "not allowing" the "board" to "fulfill their commitment" and received the following response: "We cannot elaborate at this point. But these are the facts."
A source close to the administration of the school countered, saying "let them do what they were doing until now." Adding "there is no action being done to prevent the board from doing what they were doing until now in order to pay the teachers."
This story has been update to include a comment from a source close to the schools administration