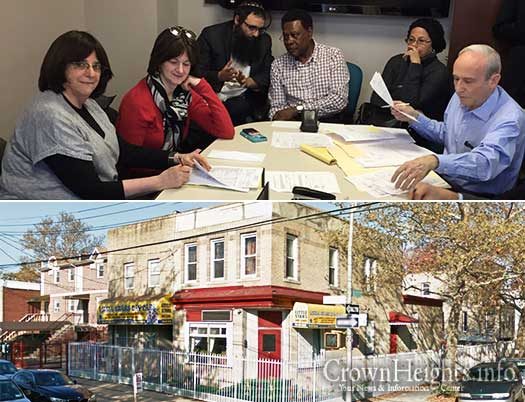 Founded ten years ago, Bnos Chomesh has yet to have a place to call its own, wandering year after year to new locations. But on Monday this all changed with the school's purchase of a new property in Crown Heights, to serve as its permanent home.
Just two short months ago, Bnos Chomesh launched a fundraising campaign with the goal of raising $300,000 with the help of a donor matching the funds that would be raised. The campaign was beyond successful, and they have raised $325,318 to aid in the purchase of the property – 588 Brooklyn Avenue.
On Monday, February 13th, 2017, school representatives – including administrator and co-founder Mrs. Nechama Chanin – met with the sellers and closed on the property, purchasing it for $2,100,000.
Zoned specifically for use as a school, the 4,500 square foot building will comfortably accommodate the school's current needs, with room for future expansion. The total property size is 10,500 square feet.
It is hard to believe that we have gotten to this point," said Mrs. Dena Gorkin, the school's co-founder and principal, "we have seen open miracles along the way."
The school has come a long way since its founding ten years ago, with just twelve students in its inaugural class. Today, there are over 50 students studying in the school, and it boasts six graduating classes, with over 40 students who have successfully graduated and most of whom went on to higher education.
"For me it is a real joy to be able to give this to our students, to be able to provide them with a space that they can be proud of that will enhance their learning and their personal growth," Mrs. Gorkin said.
Plans are being formulated for the property's renovation and to set a move in date.
Bnos Chomesh a girls' high school based in Crown Heights. To learn more about the school or to donate, visit BnosChomesh.com.