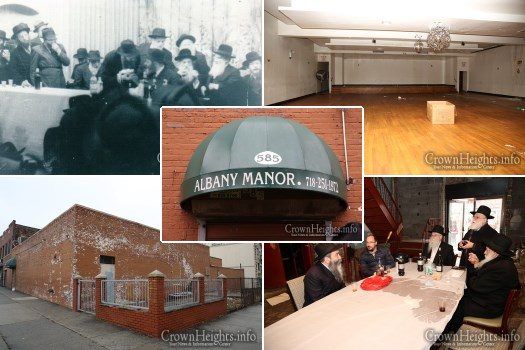 A small, unassuming building that has played a significant role in the early history of Lubavitch in Crown Heights was recently purchased by a member of the community, who intends to build affordable housing for large families on the property.
The building, 585 Albany Ave. on the corner of Rutland St., is home to the Albany Manor, which hosted five of the Rebbe's farbrengens in the mid 1950s, during a time when the original 770 building could no longer accommodate the crowds who would flock to the Rebbe's farbrengens, but the expansion into the neighboring building's basement had not yet begun.
The Rebbe led five farbrengens in Albany Manor in the years 1954-56, and many Lubavitcher couples were married there as well. The raised platform where the Rebbe sat at these historic Farbrengens is still there in the hall (see photos below).
The building and its 10,000 square foot lot were recently bought by Crown Heights community member Rabbi Dovid Fisher, who told CrownHeights.info that he intends to build housing that will cater to the needs of the Jewish community.
Rabbi Fisher and a few of his colleagues held an impromptu Farbrengen in the hall where the Rebbe hosted those Farbrengens so many years ago, to mark this special occasion.
"The Rebbe always expressed his desire to make places [in crown heights] for people to live," Rabbi Fisher told CrownHeights.info, "he even tied the safety of Eretz Yisroel with the safety and well-being of the neighborhood."
"This is what the Rebbe wanted, and that we can today effect the will of the Rebbe, and also in a place where the Rebbe held farbrengens, is an amazing thing," he said.